This article will cover complementary and alternative medicine for the common ailments of children. Please make note that none of the suggestions below are meant to be cures, but rather to help support the bodies immune system to do what it does best, heal. Please make sure to speak to your doctor before trying any of these suggestions. As I am not aware of the medical history or medications of your child, please be sure to do your due diligence and research these suggestions before trying them at home.
A-Z
Common Cold/Flu/Viruses
*In all of these situations, their immune system will work harder to bring them back to homeostasis. The following suggestions are only providing "support" in this process. 
Traditional Medicinals-Just for Kids Organic Cold Care tea
Boiron ColdCalm Homeopathic tablets to ease symptoms. Follow directions on package.
Sambucus Elderberry Syrup once a day as a daily preventative or at the onset of illness. Can give 4 times a day for intensive use (follow directions on label) Elderberry Syrup has been scientifically studied and had been proven to shorten the duration of flu and viruses (2). (Make sure the syrup does not have honey for child under one)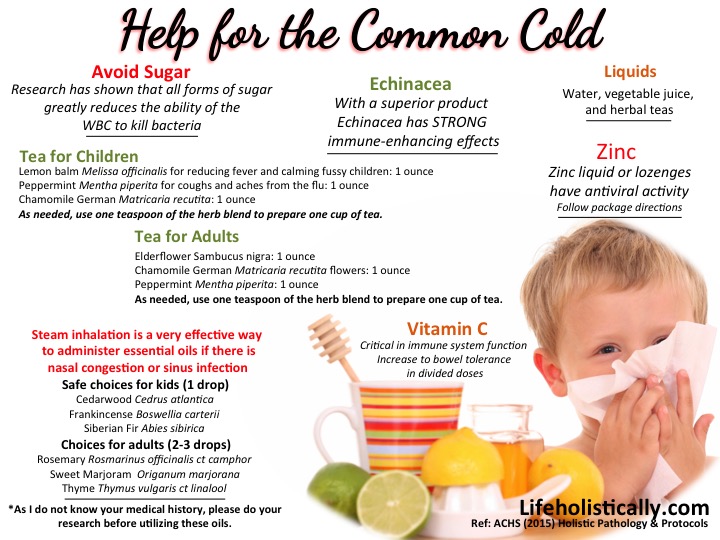 The Sinu Cleanse product works great to keep nasal passages moist and will help to keep nasal passages clear. Always use distilled water or thoroughly boil your water for a minimum of five minutes. (DO not use this if your child has ear pain or ear infection) Here is one of them.
Cough/Croup/Whooping Cough
Honey and lemon concoction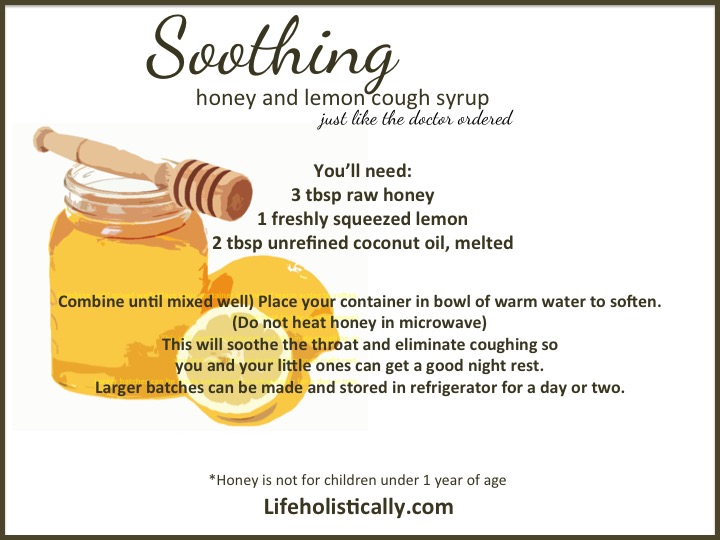 ***You can omit the coconut oil if needed and replace with warm water. 
For a wet cough use chamomile tea to soothe the throat (only if no allergy to ragweed is present).
For a dry cough try the homeopathic syrup Chestal from Boiron, and one without honey.
For croup use a hot steamy shower room for 15 minutes. If it is cold outside, wrap baby up and take them outside in the chilled air.
Always a great idea is to boost the immune system. Have some Carlson's for kids chewable vitamin C on hand (GMO-free). Take 1-4 tablets (250mg) spread out throughout the day, depending on age. Follow bottle instructions. Echinacea is a great idea as well as long as there is no autoimmune disease (follow directions on the bottle for child). Continue with your high-quality probiotics.
If you suspect the whooping cough, vitamin C is of utmost importance. (As always, use your mommy instincts. Seek the care of a doctor).
*It is not my intention to tell you what to do if your child contracts the whooping cough, as this can be a very serious situation. I would add the vitamin C protocol covered in the link below to whatever your child's doctor suggests (let your doctor know). 
http://www.vaccinationcouncil.org/2011/12/20/special-report-the-vitamin-c-treatment-of-whooping-cough-suzanne-humphries-md/
This is the vitamin C that I have on hand that can be used according to the weight of the child and is verified GMO-free. The Homeopathic remedy called Pertussin is also helpful to control the coughing fits. You can find it a few places so Google for the best price. Since it is well known and documented that even the vaccine does not make children 100% immune, I recommend having these things on hand….and I hope you never need it.
*Seek medical attention if your child appears to be under respiratory distress or becomes listless, is not taking in enough fluids or is running a fever for multiple days. Please use your intuition here mom. 
Cradle Cap/Dry Scalp
Take ¼ cup carrier oil such as grapeseed or light extra virgin olive oil (coconut is too drying) and add 2 drops cedarwood essential oil. Store in a glass container and use sparingly. Rub into scalp. I recommend trying the carrier oil first on an infant without the essential oil (no essential oils topically under 3 months of age). If using the blend with cedarwood leave on for a bit before washing to rinse away the flakes.
(Hydrosols or tea decoctions are gentler more preferred alternatives for an infant) 
Cuts/Scrapes
Calendula ointment is very powerful. I use this one when I have run out of my homemade version. Use as long as no infection is present. Calendula is very effective in preventing infection and encourages healing. A little goes a long way.
*Do not use essential oils on broken skin.
Dehydration
I do not recommend Pedialyte types of drinks as they contain artificial flavors and colors, and added sweeteners. You can use pure coconut water. It works great. But for some children, this can be an acquired taste. I make some the following concoction if the flu rears its ugly head in our house that is approved by both my 9 and 11-year-old boys.
1 quart filtered water
Juice of 2-3 lemons
1/4 – 1/2 tsp. sea salt (not table salt)
1/3 cup raw honey
Not for children under 1 year of age.
I typically take a small portion of that quart of water and heat it up. Add the honey and salt to that so it mixes the honey and dissolves the salt easily. Then add it to the remaining water.
This tastes good and has exactly the balance you need to restore electrolytes and prevent dehydration.
Earache
*****PLEASE NOTE****** If you have any doubts about your child's eardrum being fully intact, do not place anything inside the ear. I recommend seeing your doctor so that they can access. 
GOT MILK? No, I am not talking about cow's milk…but breast milk. If you are nursing, breast milk can store well in the freezer for 3 months, in a deep freezer for 6 months. Placing a couple drops of room temperature breast milk can ease an earache quite effectively.
Garlic mullein drops will combat germs while counteracting inflammation. Use 2-3 drops every 4 hours.
*Unless working with a highly trained aromatherapist, NEVER use essential oils in the ear.
Warmed olive oil is also very soothing for pain. Place one drop in ear and cover with a heat pad or rice sock in the microwave to bring comfort.
Elevate the child's mattress at night, as all ear pain will increase when they are lying down. Elevation helps the ear to drain. (This goes for coughs as well)
Massage can also be beneficial to help the ear drain. Start at outer ear and go down neck following the pattern of the Eustachian tube.
*****PLEASE NOTE****** This one is worth repeating……If you have any doubts about your child's eardrum being fully intact, do not place anything inside the ear.I recommend seeing your doctor so that they can access. 
Growing Pain
Sometimes your child might complain of their legs hurting. Both of mine do during growth spurts and 90% of the time it is when they lay down to go to sleep at night.
I use heat packs to help them be more comfortable as well as massage their legs with a drop or 2 of lavender essential oil diluted in grapeseed or jojoba oil (The aroma of lavender helps to calm them and the massage take away the immediate discomfort so they can fall asleep).
Plant Therapy has a blend that may be helpful here are well.
Teething
No Oragel, please!!!
You can freeze a washcloth and let baby chew on it….constant supervision here, please.
If there is no known allergy to ragweed chamomile hydrosol works fantastic for teething pain applied directly to area or on the frozen washcloth.
The homeopathic remedy chamomilla can also be effective.
Please DO NOT use clove essential oil on babies gums. Clove is contraindicated topically on children under 2 years of age and can cause serious irritation of the mucous membranes.
Closing
What I have covered today is just a small sampling of what is in my tool belt for the common ailments of children. There are many things that can be done to help comfort and soothe, and to support the immune system. Stay tuned for more!!!
Please note that I am not a medical practitioner. The content of this website is provided for general informational purposes only and is not intended as, nor should it be considered a substitute for, professional medical advice. Do not use the information on this website for diagnosing or treating any medical or health condition. If you have or suspect you have a medical problem, promptly contact your professional healthcare provider. By using this website, you assume full responsibility and liability for your own actions. 
(1) Effectiveness of Elderberry Syrup
Kong F. Pilot clinical study on a proprietary elderberry extract: efficacy in addressing influenza symptoms. Online Journal of Pharmacology and Pharmacokinetics. 2009;5:32-43.
Roschek B, Fink RC, McMichael MD, et al. Elderberry flavonoids bind to and prevent H1N1 infection in vitro. Phytochemistry. 2009;70:1255-61.
Ulbricht C, Basch E, Cheung L, et al. An evidence-based systematic review of elderberry and elderflower(Sambucus nigra) by the Natural Standard Research Collaboration. J Diet Suppl. 2014;11(1):80-120.
Zakay-Rones Z, Thom E, Wollan T, Wadstein J. Randomized study of the efficacy and safety of oral elderberry extract in the treatment of influenza A and B virus infections. J Int Med Res. 2004;32:132-40.
Links throughout the article may be affiliate links. Most items can be found in your local Walgreens or CVS as well. To your health!